So I loooove homemade gifts!! I love to be able to make something and personalize it to perfection! I am also obsessed with Blogs! My sister in law Miranda, sent me a link on how to make this really cool wall book hanging! I bought my first sewing machine (at a really great used price, thank you consigning mama's!) and decided to try my first project!
I thought that this was SO EASY! I have never sewed before (other than sewing class in middle school) and I didn't even know how to thread the needle or set the machine up! (Thankful to my wonderful husband who was able to read the directions, because Lord knows I am HORRIBLE with reading instructions!)
The first book hanging I made was for LC's room! We are in the process of re designing his room and I'm using really fun, vibrant colors. I decided (due to the lack of fabric options at Wal-Mart) to go with a brown wall hanging and then I found this really cool and colorful ribbon with jungle animals on it. It came out AWESOME! (And by awesome I mean, as awesome as it could be for a first time sewer!)
I am so obsessed with this new, inexpensive, easy project, that I made another one today for our living room! This time, I went to Hobby Lobby (who has an incredible/cute fabric collection by the way!) and paid $4 for this gorgeous fabric and made it in 10 minutes! How cool!?
So.. my new obsession is sewing and these book hangings are seriously my new favorite thing! Anyone have any fun, easy craft project ideas? Comment on this post and maybe I will try it out and post about it!!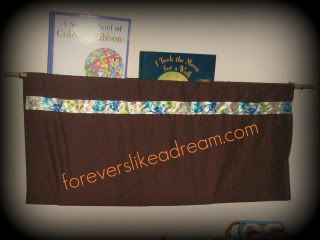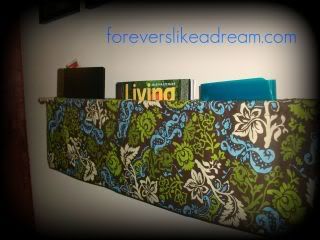 Happy Sewing!